Less than two centuries ago, in a city that is currently called the Greater Tehran, a brand emerged in the jewelry industry, which has survived up until today. Around mid-reign of Naser ul-din Shah Qajar, Haj Mohammad Mehdi Javaheri, a businessman gifted with a great initiative, and a rich taste for art and crafts, opened a small shop in Bazaar to trade jewelry and gems, a profession which later continued by his children.
From India, Oman, Bahrain, in Asia, and Tanzanian in Africa to many other parts of the world, Haj Mohammad Mehdi Javaheri would find fine gems and import them to Tehran. He was both a designer and a craftsman. For his children to better learn the jewelry designing and manufacture, he had them trained by masters of the jewelry industry so that they became the masters in jewelry design and manufacture of their time. The master of gems and jewels passed away in the late-reign of Qajar, and his children who had become masters of the craft developed his small shop. Haj Morteza Javaheri, son of Haj Mehdi, was known as a reputable and religious person who had magical hands in crafting jewelry. All children of Haj Morteza Javaheri got involved in the family business; however, among all of them, one raised to eminence beyond his father and became a name. He was Mahmood Goharbin.
"The jewelry industry owes much of what it has today to Haj Mahmoud Goharbin."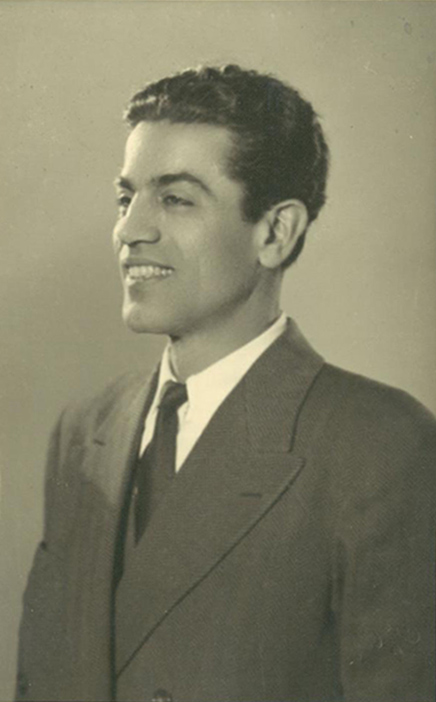 Mr. Mahmood Goharbin  1936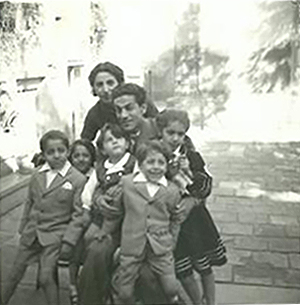 From left to right: Mahmood's Children Flor, Koorosh, Dariush, and Farideh
Haj Mahmoud, who later chose the Goharbin surname, became familiar with the secrets of the jewelry profession as a child alongside his father and other masters of the filed in early Pahlavi. Mahmoud Goharbin was a unique artist, virtuoso, and designer. He was both proficient in gemology and in the creation of several new and distinctive jewelry styles, which remain popular among jewelers around the world.
He knew and loved the essence of Iranian art properly and knew enough about the tastes of his time. What he was creating was both a representative of the Iranian art and in par with world-class art. Haj Mahmoud realized that most jewelry makers in Iran used foreign patterns, that is why he was utterly opposed to doing so, and always designed using Iranian trends of the goldsmithery industry which dates back to 700 years ago.
He opened his first shop and workshop on Lalehzar, a little further from his Qajar style house, and tried to teach his unique initiative to his apprentices who later became masters in the jewelry industry. Needless to say that the jewelry industry in Iran owes it a lot to the contributions and efforts of Mahmood Goharbin, who best put his artistry and creativity to showcase.
He was born to be a manager, and in fact, he was one of the most successful managers of the 80s in Iran. The foundation of the first Jewelry Shopping Center in Tehran before the emergence of any high-rise building was among his initiatives.
Mahmood Goharbin, who passed away in 1989, was a hardworking man and a strict instructor, and in fact, his important personal traits made him renowned forever. We can genuinely say that the jewelry industry owes much of its achievements and advancement to his contributions and endeavors.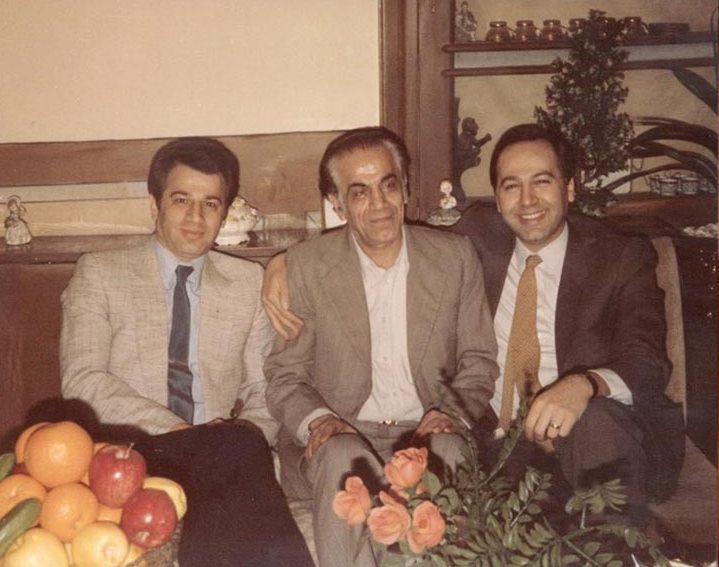 From Left Mr. Kourosh, Mahmoud, Daryoush Goharbin  1986