About us

It all started with Mr. Mehdi Javaheri, the great grandfather of Mr.Kourosh Goharbin, the current President and the owner of K Goharbin Gallery. Mehdi Javaheri was a merchant, importing and exporting jewels and producing gold items and jewelry. He played a valuable role in supporting the jewelry industry in Iran and was honored with a Karvansara (Inn) in his name located in Tehran Ghavamodoleh Mall.
His son, Morteza Javaheri, continued his father's work and became a very well known jewelry merchant of the time. He too was honored, with a school in his name.
Kourosh Goharbin's father, Mahmood Goharbin also followed the footsteps of his father and grandfather before him. He opened his first jewelry store in 1921 located in Lalezar, the high profile area of Tehran. His interest in the jewelry industry was vast and he gained extensive experience in his profession. He has trained many people who are well known in Iran and abroad. At the present, some of his and his brother Ahmad Jahan's works are kept in the Royal Jewelry Museum of the Central Bank.
Kourosh Goharbin worked with his father since childhood and benefitted a lot from his father's experiences. His interest in the 7000 years of art by jewelry artisans in Iran and Egypt that has been showcased in museums all over the world helped develop his vision and outlook.
He then established his own company in 1976 in Taleghani Ave, Tehran. In 1999, Koroush relocated his store on Bijan St., Tehran and moved to his new state of art and one of the kind showrooms on Vali Asr Ave., Tehran.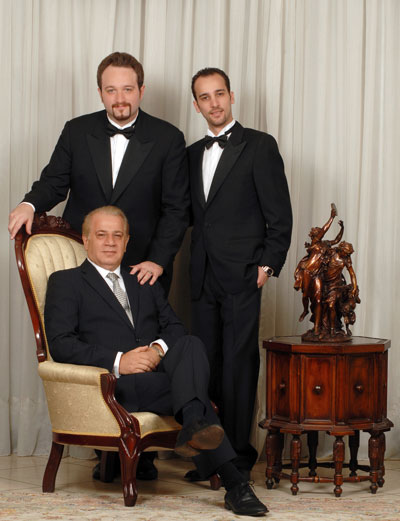 He was also appointed President of Tehran Jewelry, Coins and Foreign Exchange guild union by the Board of Directors of the Union in 2001 and made much effort for the progression and development of this industry and art.
As the industry developed in the world, Kourosh and his sons travelled to Europe and the United States to pursue courses in petrology, designing and production (GIA). Today the company is running by Koroush Goharbin and his family. Koroush is the President and his wife and three children are head of marketing, sales and design. Koroush states that "exceptional design, quality products, service and value has been the secret to our success, and this will not change."
With an unflinching focus on quality, Mr. Kourosh Goharbin has developed a loyal and repeat list of thousands of exclusive clients, including celebrities and high profile CEOs.
Furthermore, Koroush Goharbin's most important goal is the development and export of theancient Iranian art in jewelry and to create more jobs for the skilled and knowledgeableyouth.